F
OFFLINE DIGITAL LIBRARY
.
The wiLearnCAP primarily serves communities without internet data connections. However its desing allows for an online server option as well as an integration in a computer lab.
As a sample the global Wikipedia and many other encyclopedias are made
accessible in it's entirety
w
ithout an internet connection
.
For direct access to the wiLearn server click on RACHEL picture below or use the follwing browser address
https://80.218.188.166
The wiLearn Demo Server is not always online, so try again another day if it fails to show the content over the internet.
At the heart of the wiLearnCAP you will find
RACHEL Plus from
World Possible.
RACHEL means remote access community hotspot for education and learning. Their design is always an integral part of
our mobile learning paltforms.
The basic setup contains a collection of over 100 modules in English language mostly based on the OER2GO database published by World Possible. WiLearn has added customized modules too and is your partner to expand the content base according your teaching and learning focus.
All content can be sorted, changed, augmented or deleted depending on the primary learning community served. The wiLearnCAP
allows wireless browsing from a mobile- or computer device
for up to 50 concurrent learners to
enhance their literacy, training, studying, research, presentation and edutainment.
ALL
content can be accessed free of charge
(no download cost nor licence fees apply)
by the enduser because our policy is to provide digital media that is primarily licenced under Creative Commons or available as an Open Education Resource (OER). Digtial media can be downloaded and kept on the learners digital device taking it home for free.
Such libraries have a totally new quality with audio, print, animations, interactive and creqative tools, video files as well as self constructed content created by a simple smart phone.
The wiELarnCAP comes with 1TB HDD hard disk. Upon request we can modify the wiLearnCAP to fit your operation. It is recommended for dusty and on the road purposes to use the less sensitve 1TB SSD.
We are also testing a SIM Card version including a 4G LTE modem to connect the server directly via 4G Antennas to the internet supplying internet to administrators and/or learners if desired.
Updates can be made via LAN cable and external SIM card Modem (RJ45 port) or the USB ports. All hardware and software adminstration can be done in the field with a simple smart phone or with a Laptop computer.
The system runs om Linux / Ubuntu and is agnostic for the enduser. There is a good community around the globe called rachelfriends for news and solutions to common problems.
is also an initiative from
World Possible
to build comprehesive, country specific and curriculum aligned libraries. Should you have educational
software that is licenced under Creative Commons
you are welcome to contact us for the creaction of a module.
Whatever valued educational information you share, will be available for download on the global database for everybody who is using RACHEL on a digital device.
Introduction to RACHEL Server content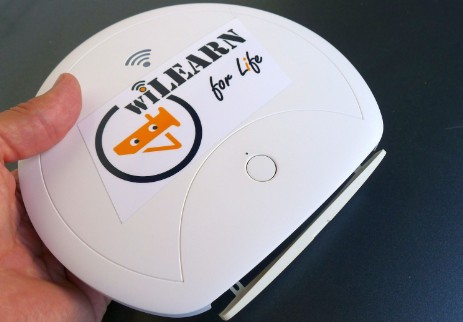 The basic wiLearnCAP establishes a hotspot called a
wiFi access point.
About
700 GB
of the storage space is already occupied with education modules.
Around 20 GB are allocated to the local library
which stores self produced media content.